Make your ordinary apartment buzzer smarter
Create virtual access codes for visitors and deliveries. No hardware to install or integration needed. Works with any wireless building buzzer and intercom system.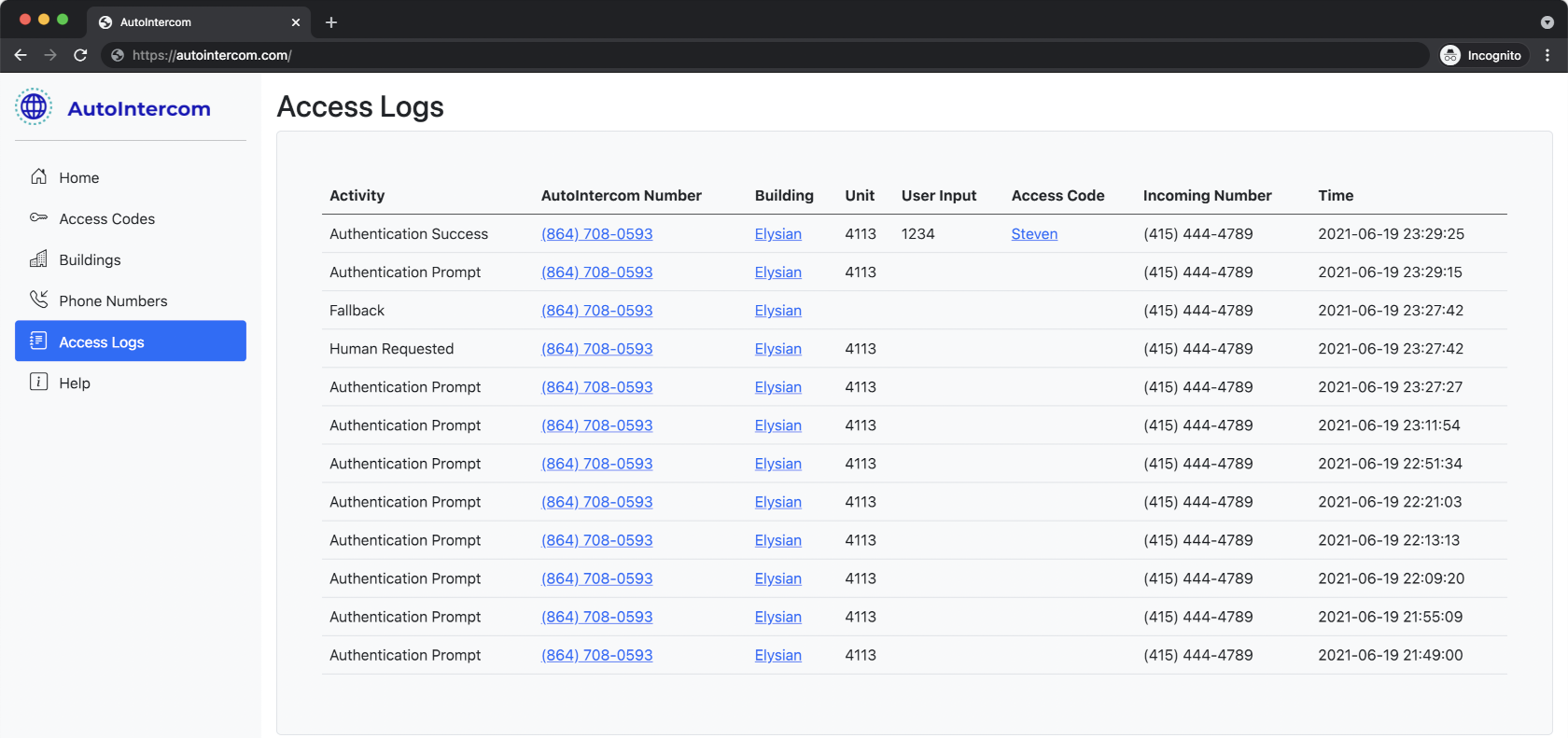 How It Works
All you have to do is ask your property manager to replace your cell phone number with your AutoIntercom number (a virtual phone number), and you've just upgraded your intercom to a smart intercom.
1. Get your AutoIntercom Number
Sign up to get your new number to enable your smart intercom. No hardware is needed, works with existing building buzzer or intercom system.
2. Create Access Codes
Create unique codes to access your building for food delivery drivers, cleaners, dog walkers, guests, and more.
3. Give your Building your AutoIntercom Number
Replace your existing cell phone number with your AutoIntercom number.
4. Enjoy your Smart Intercom
AutoIntercom will automatically buzz open the door for anyone with an access code.
Try it for yourself.
Call our Demo Intercom at
+1 (864) 708-0593
.
Use guest access code 1234# to buzz yourself in.
Common Use Cases
Cleaning crews
Let your cleaning crew buzz themselves in for your weekly cleaning, even if you're sitting on the beach in the Maldives.
Keyless check-in
Manage short-term rentals? Allow your guests to enter the building by themselves, especially for those 3am late check-ins.
Deliveries
So busy you don't even have time to buzz in the food delivery driver? Let us make sure your food is delivered right to your unit.
Features
Whether you are looking for personal use at your own apartment/condo, or for professional use as a manager of short-term rentals, we offer a complete feature set to suit your needs.
Keyless entry
Eliminate the need to share physical keys or fobs with your guests, greatly enhancing security
Automated entry
Let our software authenticate your guests and buzz them in without human intervention
Multiple access codes
Give unique access codes to each of your guests and limit their access with schedules
Real-time control
Grant and revoke access instantly without having to rekey your door or reprogram your intercom
Team access
Let other members of your team share account management responsibilities
Audit logs
View detailed access logs, including failed and successful access attempts
Voice-enabled access codes
Enable guests to speak the access codes in addition to using the keypad
Fallback forwarding
In the event of software failure or unexpected guests, forward calls to your own cellphone to manually buzz guests in
What Users Are Saying
I love this product. It makes my life so much easier for letting airbnb guests into our building. While we have an August smartlock, we are only allowed 2 keyfobs for our building access. AutoIntercom lets our airbnb guests enter themselves without worrying about the headache of a keyfob exchange.
AutoIntercom makes it easy for our food delivery to deliver straight to our door. No more having to go all the way downstairs to pick it up.
Pricing
Flexible options for personal or professional use. Free 14-day trial available for all plans except Custom.
Compare plan features
| | Personal | Professional | Enterprise | Custom |
| --- | --- | --- | --- | --- |
| Fallback forwarding | | | | |
| Keypad access codes | | | | |
| Multiple access codes | | | | |
| Multiple team members | | | | |
| Open house schedules | | | | |
| Voice access codes | | | | |
| Email support | | | | |
| Fixed scheduling | | | | |
| Multiple buildings | | | | |
| Recurring scheduling | | | | |
| Access logs | | | | |
| Multi-intercom buildings | | | | |
| Multiple units per building | | | | |
| Expanded country support | | | | |
| Multiple countries | | | | |
| SMS support | | | | |
Frequently Asked Questions
Still have questions? Take a look at our frequently asked questions, or reach out if you need more help.
Unfortunately, no. We recommend pairing AutoIntercom with a smart lock at the unit for end-to-end automation. For example, ones sold by August, Kwikset, Yale, Schlage, and others.
You will input each unit number within AutoIntercom, and when you guest dials the intercom, our system will prompt the guest to enter or say the unit number prior to access code authentication.
You must have a standard "wireless intercom". These are the types of intercoms that can be configured to call your cell phone. These are the most common type of intercom. If you have a "wired intercom", meaning the intercom is wired directly to a wired phone in your unit, unfortunately, it is not compatible with AutoIntercom.
Each intercom has a unique phone number. When you set up the building in AutoIntercom, we will collect the intercom's phone number and use it to identify the building.
The following countries are supported in all of our plans: United States, Canada, United Kingdom, Slovakia, Switzerland, Sweden, Spain, Portugal, Lithuania, Ireland, Greece, France, Finland, Estonia, Germany, Belgium, Austria, South Africa.
For an additional fee (varies by country) and on the Custom plan, we can support the following countries: Dominican Republic, El Salvador, Mexico, Panama, Trinidad and Tobago, Puerto Rico, Argentina, Brazil, Chile, Colombia, Peru, Slovenia, Romania, Luxembourg, Iceland, Hungary, Czechia, Cyprus, Croatia, Bulgaria, Thailand, Singapore, Philippines, Japan, Indonesia, Hong Kong, New Zealand, Australia, Kenya, Israel. Please contact us if you need to use AutoIntercom in one of these countries.
You will have a 14 day trial period to test out AutoIntercom and make sure it works for your needs. During that 14 days, please make sure to add your payment information so your service is not interrupted.
For Professional plans, you can use the schedules feature to set up fixed or recurring schedules for each code.
For Enterprise plans, your dashboard will include an access log that lets you know who used your AutoIntercom and when.